faezeh • seddigh
• om meg • about myself •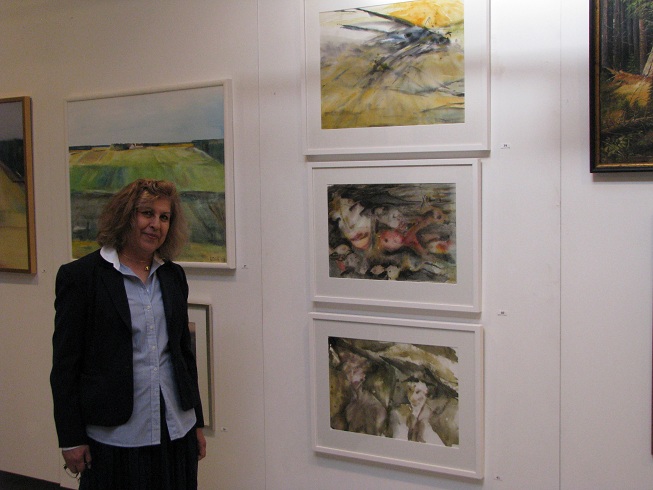 "Akvarell er min store passion og jeg er medlem av NFUK, Bærum Malerklubb og Nordisk Akvarelselskab.
Jeg er dypt fasineret av akvarell og dens uanede muligheter. For første gang etter mange år med akvarelltegning preget av min formelle arkitekturutdannelse, fikk kurset om " pigment" hos Arne Isacsson, Morten Paulsen og Kjersti Elliassen endret teknikk og tankegangen min om akvarellmaling.
Kurs med Lars Holm senere, åpnet nye horisonter for meg om frie akvarellteknikk. Jeg maler landskap eller objekter som jeg har sett, opplevd eller blitt inspirert av. Tekst, poesi, og metaphorer er også temaer some er vesentlige i mine verk. "
-- faezeh • seddigh
"I have completed my education in 1966 from Tehran University with a Master's degree in Architecture and in 1972 a Ph.D. in Urban Design. Later in Norway attended the School of Architecture in 1977, then the School of Art & Crafts for Interior architecture and furniture design.
I have worked as an architect in private architectural firms, as well as the Municipal "Town planning & Building Office" in Oslo .
Interest in painting lead me to Watercolour- which at the start was influenced by my classical and formal training in arts and architecture, but later on arrived at a free expression of my own.
I am a member of The Norwegian painters club NFUK, Nordisk Akvarelselskab and Bærum Painter's Club. I has participated in several collective and had individual exhibitions."
-- faezeh • seddigh
_________________________________________________________________________________________________________________
• hjem • utstillinger og nyheter • akvarell galleri • om faezeh seddigh • lenker •
faezeh • seddigh
• lysaker brygge 36 • 1366 lysaker • norway •
• telefon / phone +47 22500089 • faezeh.seddigh@gmail.com • ArcoFay © 2010 • arcofay.com •